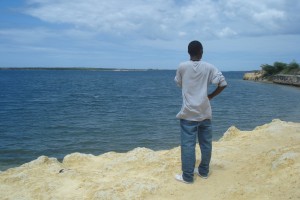 Guilt. Shame. Burdened. Sad. Lonely. Addicted. Marked. The more I speak with survivors of child sex abuse, the more I understand the weight that so many of you feel. Now, I'm not one of those people who will say, "I know exactly how you feel." The reality is I don't know exactly how you feel, and I never will. Neither do I pretend to know exactly how you feel. But I can say emphatically that Christians be damned if we don't begin to try and understand. It's time we church leaders search into the depths of our hearts and minds and start to understand exactly why Jesus surrounded himself with people who were labeled as the social outcasts.
It's sad that so many Christians overlook the people who Jesus closely associated himself with. Let's start with Jesus' own family tree. Matthew mentions Tamar who, by the way, dressed as a prostitute and had sex with her father-in-law. There's also Rahab, whose profession was a prostitute, followed by Ruth, the woman who spent the night under the blankets with Boaz. And then there's Bathsheba who cheated on her husband with King David. All of these women were foreigners, too. Not exactly the model family tree for the Messiah. These are not the women that someone would say, "Tah dah!. . . Meet my family, everybody." Yet Matthew includes them in Jesus' family tree precisely because Jesus came to heal the wounded.
Let's not forget the woman who was caught cheating on her husband. Jesus vehemently defended her in John 8. We cannot forget the Samaritan woman, either, who Jesus pursued at the well. You know, the one who had 5 former husbands and was living with man number 6 (not her husband). Or what about the woman who fell down, wiping Jesus' feet with her tears and hair. Luke does not mince words concerning her: "And behold, a woman of the city, who was a sinner. . ." (Luke 7:37). What exactly was her sin? We're not positive, but we know how she was viewed by the townspeople when the owner of the house said to himself, "If this man were a prophet, he would have known who and what sort of woman this is who is touching him. . ." (Luke 7:39). What's Jesus' response? Jesus rebukes not the sinful woman, but the religious man who looked down on this woman. Then Jesus offers the most healing words to this woman that she could have ever heard: "Your sins are forgiven." I imagine a woman who felt both ashamed by past abuse and by who she'd become because of it. She felt so crappy about herself that she finds herself in a humiliating position–on all fours wiping the dirty feet of this man with her hair, as tears and snot fall to the ground. My heart breaks for her. I imagine that she, like many of you, had never been empowered to feel loved.
As I talk with survivors of abuse, many of them share how they are not able to speak to anyone about their abuse. They feel ashamed, scared, broken, guilty, and downright ugly inside. This is why it's called abuse. Abuse sucks. And I believe this is why Jesus is so kind to all of these women I mentioned. He does not excuse their sin. He understands its source. Rather than force them to keep hiding it while feeling ashamed, he frees them by bringing it out from the pits of their soul. It's only then that they can begin to heal.
I wonder just how many of you are out there waiting to tell someone about the burden you've been carrying for so long, waiting for someone to show up who will simply listen. As a minister, I often ask myself what our church can be doing to help survivors of abuse be empowered to talk about their abuse and to begin healing. Should we begin a support group for survivors of abuse? Would people even come, or do they feel too ashamed? I don't know what the answer is, but I know that doing nothing is just plain wrong. My heart breaks every time I hear people who turn to sex, or drugs, or porn simply because they are trying to find a way to cope with their abuse. My heart breaks even more when they are ridiculed for their sin without church leaders ever caring to find out why they are caught up in them. I truly believe that if the church was as gentle to the abused sinners and as harsh to the abuser sinners as Jesus was, people would actually trust in God and His church again.
I commend my new friend Mary DeMuth who turned her childhood rapes into a healing book specifically for survivors of child sex abuse (really for any kind of abuse, but she writes from the perspective of one who endured brutal rapes as a child). Her newest book Not Marked: Finding Hope and Healing After Sexual Abuse will be in print next month. I couldn't wait, so I ordered the e-book and I've got to say, I cannot put it down! Survivors of abuse need to hear from Mary. You need to know that there is hope. You need to hear that there are good men out there, and that you are worthy of them!
My prayer is that you can be empowered to begin speaking about the abuse and that churches will be open to being a vessel of hope and healing! You are not alone and you should never feel like you are!